András Ispán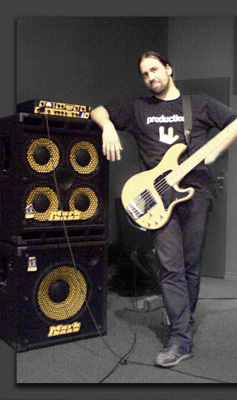 András Ispán
Bass guitar
20 May 1977
2009
Novi Sad, Serbia
Jet Black(1995-1996), Corpus Delicti(1996-2001), Sympatic(2000-2002), Deak Bill Blues Band(2003-2005), Amok(2005-2007), Amentes(2005-2009), Charlie B(2006- ), Tales of Dark(2006-2008), Grate(2006-2009), Dukeland(1997), Helloween Tribute(2001-2002), Iron Maiden Tribute Band(2002-2003), Aces 5(2003), Osmi Dan(2008- )
–
–
Influences: When it comes to rock, it's Billy Sheehan, Cliff Burton, Steve Harris,…
Amongst all those jazzy, funky slapping dudes the first names that come up are Tony Levin, Victor Wooten, Stanley Clarke… and in a less "iconic" meaning than those mentioned above.
And there's Steve DiGiorgio somewhere between the two worlds.
Strangely enough, but Zakk Wylde has had a noticeable influence on my playing, although he is a guitarist.
Of course there is a bunch more. Much more than space on this page.
Anyway, influences could as well be experiences, events, scenes, people, anything… so naming a few bassists is not that relevant after all…
BASIC BIO STUFF:
Since I am an old fashioned guy, who prefers meeting people at bars, gigs and parties, or not meeting them at all, I'll make this introduction as short as possible, and leave the rest to real communication:
* I play the bass since 1993
* am basically a metalhead, always have been, but also I have played a lot of hard rock and similar stuff, even powerpop, and have studied jazz
* played bass for the Hungarian blues legend Bill Deak, and am to this day a very good friend of Bill.
* can read notes (musical notation), and YES, I can write them too. You could say I am musically educated. As a matter of fact, I am.
* have played in front of 4 people
* have played in front of 100 000 people
* At the number of 300 I quit counting my gigs. That was in mid-2004
* Participated on about a dozen-or-more records as a bassist, helped as a sound engineer on couple, and have even recorded a lead-guitar track on one occasion (demos not included)
* have never played the guitar. I have been a bassist from the very beginning.
* am a music theory freak. I can bend the universe just by continuously substituting functions, mostly dominants, but don't use that quite much, for I still think heavy metal is the law! Thrash metal especially…
* am a guitar FX freak. I have far more FX pedals than shoes…
* am known for generously lending my 1962 Fender Precision Bass to almost anyone who has ever asked for it to do some studio recording
* have played in an Iron Maiden tribute band and am damn proud of it! Steve Harris is the ONLY bassist that can play Iron Maiden better than I do.
OTHER FACTS:
* Johann Sebastian Bach is the Alpha and the Omega of music. Period.
* DI boxes SUCK!
* Overdrive is cool
* True bypass is an inferior and obsolete technology, and also an irrelevant factor in one's sound. Hopeless wankers think otherwise
* Belgian beers rule
* Bourbon, not whisky!
* Drugs are for pussies! I have never even tried that bullcrap, and am very proud of it.

...and behold, ye lame fleshly sculpture!
What tremendous plague thou hast evoken...
The challenge for a final battle is near.
The restless frown of the moon
drawn like a goëtic circle
shalt be the only audience in this arena,
where like helpless prey thou wilt succumb
...to the hand of thy very own self.